Canon's C700 FF is a full-frame version of the C700, Canon's first "conventional" Cinema EOS camera. Unlike the C100, C200, C300, C500, and their variants, the C700 has a long, rectangular body and control layout similar to other large cine cameras. While the standard C700 uses a 4K-capable Super35mm sensor, the FF uses a 17:9 "full-frame" sensor, 38.1mm x 20.1mm, with 5952 x 3140 active photosites. The camera is available in both EF-mount (EOS C700 FF) and PL-mount (EOS C700 FF PL) versions. It records XF-AVC and ProRes internally on CFast cards, and offers integrated raw recording with a Codex CDX-36150 docking recorder.
The C700 FF captures up to 15 stops in raw and log. It shoots in full-frame mode, 4K/UHD Super35mm crop mode, or 2K/HD Super16mm crop: 
It offers slow & fast frame rates from 1 fps through 60 fps in full-frame, 72 fps in S35mm crop, or 168 fps in S16mm crop (these maximums are slightly lower than the S35mm-native C700's; those cameras can capture at 120fps in S35 and 240fps in S16). 
Its native (unity gain) ISO is 200; the optimal ISO for full dynamic range is 800; and the camera lets you shoot anything from ISO 160 to 25600 in normal operations or 100 to 102400 in extended range ops. Clips capture with Canon colorimetry. Four channels of audio can be recorded, using anything from a built-in mike to a 3.5mm miniplug to dual analog or quad digital XLRs. Internal NDs from 2 to 10 stops are available at the push of a button.
While its EVF menus will be familiar to users of other Cinema EOS cameras, the C700 FF also has a six-button side panel, with a menu structure instantly usable by folks coming from Alexas, VariCams, and F55s.
The EF-mount version of the camera, coupled with EF lenses, enables a formidable, industry-leading array of autofocus options and manual focus assist modes.
The C700 FF lists for US$33,000, with top handle and EVF mount but no EVF or raw recorder (the S35mm C700, formerly $35,000 is now selling for a mere $28,000). Canon's EVF-V70 OLED Viewfinder is $6000; the Codex CDX-36150 recorder is $7000. There's also a Canon shoulder Support Unit (shoulder pad, 15mm rail mounts, tripod quick-release wedge) for $1400, an SG-1 handgrip / controller for $2000, and a right-side six-button side panel, the OU-700, for $2400. Clearly, the C700 FF isn't the sort of camera you'll find in the impulse-buy bins at the supermarket checkout counter. 
But I'd argue that you get what you pay for. The C700 FF is a high resolution, high dynamic range camera that just works, the way Apple computers just work (well, the way they used to, but that's a whole different discussion).
I say this because in September 2018 Canon lent me a C700 FF PL running firmware version 1.0.0.1.00, a Codex recorder, an EVF, and a Tokina Vista 50mm T1.5 prime for a few days, and` I put the kit through my usual series of tests. In December I visited Canon's facility in Burbank and did some follow-up testing, using a C700 FF with an EF mount and an EOS prime. The EF camera also ran firmware 1.0.0.1.00. In both cases, the camera just worked.
Once you select a frame size and recording format, you'll get consistent, reliable, predictable results, regardless of frame rate and (to a remarkable degree) regardless of ISO setting. Do what you will: the sensor is always sampled fully, with no line-skipping or pixel-binning. Color and resolution remain constant and consistent even with gain cranked to ludicrous levels. The camera's controls and menus are sensibly laid out and important settings are immediately available, so the camera is a pleasure to operate. The C700 FF has Canon's well-regarded colorimetry; the images are rich and "fat" so you have plenty of color information to work with. 
The result is a camera that has your back: its focus is on image quality first and foremost. 
Design and Handling
The FF is a long, black box that feels like it was hogged out of a solid metal ingot. 
Top and bottom are perfectly flat and tapped for accessories, while the sides are sculpted as needed for controls on the left and I/O ports on the right. The front of the camera preserves the concentric surfaces-of-revolution design language of the C300 and its ilk; this rounded forebody with its glossy black speckled paint is nested in the smoother, semi-matte main body with its full complement of cine-style controls and I/O ports, almost as if a "real" cinema camera is in the process of gobbling up a C300.  The overall impression is of a camera that extends the control philosophy of the C300-style cameras into a no-compromise cine-style body. Adding the dockable Codex recorder preserves the lines of the camera, simply extending the body backwards with no increase in height or width (if you don't opt for the Codex, it's replaced with a V-mount battery plate that barely extends past the curve of the camera's side panels). 
The left side has a vertical dial, used on the EF-mount camera for iris control but (fortunately for PL users) re-assignable to ISO/gain. Up and down buttons for the built-in ND filters sit in front of a stack of four assignable buttons; I never saw the need to change the default assignments of image mag, peaking, false color, and waveform monitor on/off. A big red REC button and a bi-color status LED (red when recording) sit below. 
A cine-standard six-button side panel and associated controls fill the rest of the right side. USER calls up three user-assignable menus; ALT displays controls that don't fit on the home screen; TC opens the timecode menu; PLAY invokes playback. Six softkeys surround the side panel display; their functions depend on the screen being shown. HOME displays the home screen; MENU enters the menu system; BACK pops you up a level in the menus, and INFO cycles through a series of status displays. A SELECT wheel controls menu item selection and parameter changes, with a central SET button to accept the setting. There's also the camera's ON/OFF button, and a LOCK button to disable the side-panel controls once you've set things the way you like  'em.
The back of the camera with the Codex docked simply shows the battery plate and DC power connector. You have the option of Gold Mount or V-Mount for the battery plate. The DC connector, being part of the Codex recorder, isn't the usual 4-pin XLR; it's a mil-spec, radiation-hardened, earthquake-proof two pin connector from the likes of Lemo or Fischer or Hirose; just be aware you'll need the proper power cable to feed juice to the camera. 
With the Codex removed, the camera's own DC connector can be used, and it is a 4-pin XLR. 
Two rows of angled ports fill the back of the right side. Dual SDI monitoring ports, genlock / sync I/O, timecode I/O, and HDMI fill the rearmost row; four 3G SDI outputs, two remote-panel connections for video-style CCUs, a 3.5mm stereo headphone jack, and dual audio XLRs fill the forward row. The XLRs are switchable between AES/EBU digital and analog inputs; in analog both line and mic levels are selectable, along with 48v phantom power. There's also an RJ-45 Ethernet connector and a port at the top for a Wi-Fi radio used for IP streaming or remote monitoring and control. 
Dual CFast card slots, an SD card slot, a slot-select button, and another REC button and tally/status lamp occupy the center of the right side. If you have the OU-700 attached, it mounts at the top on a hinged bracket and sits in front of these doors, as shown here.
There's an air intake along the front and an exhaust vent along the back; cooling air is drawn through the former and whooshes quite a bit warmer out the latter. The camera's internal fan has three levels of reasonably quiet operation, and it can be turned off while recording. 
Along the front are a 3.5mm stereo microphone minijack (!), a multipin VIDEO connector for the EVF, 24V and 12V DC outputs for accessories. A LENS port connects to the optional handgrip or a broadcast lens, while a CTRL port connects the optional OU-700 Remote Control Unit, which replicates the right-side six-button side panel and its associated controls.
All ports have tethered, push-on rubber covers. These covers can be removed entirely if desired. 
The front of the camera has yet another record trigger, a built-in monaural microphone, and a fifth assignable button: it defaults to one-shot autofocus on the EF model (I reassigned it to auto white balance). And, of course, the PL or EF mount, with the full-frame sensor behind it. 
The underside of the camera is tapped with multiple 1/4" and 3/8" holes for tripod or shoulder-rig mounting.
The entire top of the camera is a cheese plate with 1/4" and 3/8" sockets. The Codex, at the rear, has a large LED ring that glows blue in standby, green in playback, and red when recording; pressing the center of the ring selected one of three brightness levels, or turns the LEDS off entirely. 
The Codex is secured with both a quick-release latch and two bolts. A slide switch pops open the top of the Codex so you can load the solid-state Codex Drive.
The supplied handle and EVF mount can be bolted to the top cheese plate in a variety of locations, while leaving plenty of room to mount the other gack that seems to accumulate on cine cameras, especially considering that the handle itself has several tapped holes for that purpose: 
The EVF attaches to an L-shaped bracket with its own short arm.  
The bracket adjusts laterally while the EVF can slide back and forth along it. The pivoting mounts on the EVF's arm allow rotation and vertical repositioning, but they don't allow the EVF to pivot to either side. There's a 1/4" socket under the EVF if you want to relocate it on a magic arm.
The top pivot on the EVF is a friction mount, it's easily loosened or tightened to taste  by rotating its knob. The lower pivot has an internal rosette or other toothed bracket, so it's either locked in place or free to rotate. The knob has to be loosened a lot to get to the point where the arm can be rotated, at which point the whole assembly flops around alarmingly. While that link is admirably rigid when tightened down, it's very slow to adjust when you want to move the EVF up or down a bit. It's annoying to deal with in practice, and out of character compared to the rest of the camera's controls and fittings. Fortunately folks like ARRI and Shape make C700 top handles with EVF mounts, so you're not stuck with Canon's design if it displeases you.
The EVF itself has buttons for image magnification, false color, FUNC (which I'll discuss later), the EVF menu button, and a SELECT wheel and SET button, joystick, and BACK button for menu navigation. A diopter ring lets you tweak focus for your eye. The eyepiece is fixed and can't be flipped open for distant viewing.
Controls and Menus
All the buttons used on the C700 FF are reasonably large, easy to find by touch, and satisfyingly sprung, being neither so soft that they're easily pressed by accident nor so stiff that you'll wobble the camera when pressing them. The buttons are illuminated for in-the-dark operation.  
Both button brightness and side panel brightness are adjustable: hold down HOME and spin the SELECT wheel to vary the button brightness; use BACK and the wheel to tweak the side panel's glow.
SD and CFast media doors have slide switches to unlatch them, and status LEDs so you know when you can do so.
Overall, the controls exhibit consistent usability, tactility, and resistance; nothing feels finicky, fragile, or oversensitive. Yes, there's a teensy little joystick on the EVF, but it's perfectly suited for thumbing through menus and settings, even with a gloved thumb. (Those used to operating other Cinema EOS cameras will recognize that joystick, along with the CFast media doors, as having migrated from the smaller cameras to the bigger C700.)
The C700 FF offers the full range of settings of any capable cine camera with multiple frame sizes, system frequencies, recording formats, and monitoring facilities, plus the full complement of video-style adjustments for WYSIWYG shooting. That means menus: a lot of 'em. Fortunately these menus appear to have been designed with the operator in mind more than the systems design engineer (I'm lookin' at you, Sony), so things are found in reasonably sensible locations and the learning curve is short. There doesn't appear to be a C700 menu simulator online, but other Canon menu simulators will give you a sense of how Canon organizes their menus.
Menus and settings can be accessed using the EVF's controls and display (also echoed on the MON outputs, if you've set the camera up that way), or using the side panel's controls and display. 
Using the EVF controls, navigating the menus feels just like working with a C100, C300, or the like. You have a joystick; your menus have things pretty much where you'd expect them to be; it's a comfortable and familiar neighborhood.
Using the six-button side panel is very much like working with an Alexa, F55, VariCam, or other camera with a six-button side panel: your most-needed controls — ISO, shutter, frame rate, white balance, color, etc. — are directly accessible, surrounding a status display with the most critical information. 
Pressing ALT lets you access the audio settings, the camera's level indicator, and (on the EF model only) a wide array of autofocus and focus-assist functions.  
An INFO button brings up several pages of detailed status data, more quickly perused than if you have to dig through the settings menus; a USER button cycles through three pages of user-defined softkeys. The TC button lets you tweak timecode settings. 
When you do have to dip into the side panel menus, you'll find the same clear, logical organization used in the EVF menus… except that there's stuff missing: all the stuff already available in the main screens. This MENU holds secondary settings; once you're set up for the day you (mostly) shouldn't need to delve into it, as all your primary settings are available directly or at the push of a button on the HOME screen. It makes for a fast, streamlined experience, so you spend less time menu-diving and more time making pictures. 
Browser Remote
Browser Remote is a web-based remote monitoring and control application, available over both the built-in wired networking or over Wi-Fi using an optional radio module. It doesn't require any special app, just a web browser, so it's accessible on iOS, Android, Mac, or PC. Here's an iPad screenshot:
I connected to Browser Remote using the Canon's add-on Wi-Fi transmitter. The live-view image resolved roughly 480p, and updated at about 6–8fps in my test (it might be faster or slower for you, depending on the Wi-Fi congestion and interference in your radio environment). That's a tolerable frame rate given the resolution (assuming the camera is sending sequential JPEG images), and it means that any given frame lags realtime by only a fraction of a second — at least when it initially appears. 
While it's somewhat too stuttery and coarse for comfortable manual focus-pulling, it's quite handy for remotely-operated tap-to-focus using an EF-mount camera and EOS autofocus lenses, as DP Geoff Boyle did with a C300 Mk 2 in 2016. The AF target area is shown onscreen as a corner-framed rectangle and can be repositioned with a single touch or click.
PL-mount cameras, alas, lack this capability, though you can always use a Preston Light Ranger 2 to get similar functionality.
Displays and Outputs
The base camera comes blind; an EVF is optional equipment. Canon's EVF is a full HD OLED panel surrounded by tactile controls. You can drive the camera almost entirely from the EVF, a great boon for single-person shoulder-mounted operations. 
The OLED itself, being 1920×1080, means that your eyeball will run out of resolution before the EVF will; the eyepiece presents the OLED at a Goldilocks viewing angle — not too big, not too small — so that the image looks crystal-clear without visible pixellation or aliasing of any sort. The large eyepiece has a diopter-adjusting ring and a comfortable eyecup; I had no problems seeing all corners of the image while wearing glasses. The eyepiece cannot be opened like that on an ENG camera, so if you need to view from a slight distance you'll want a separate monitor.
The camera has two full 2K/HD MON output terminals, and an HDMI port capable of a full 4K/UHD image. The EVF's feed can be replicated on these outputs (though HDMI must output 2K/HD if you want the EVF feed), or their feeds can be left clean. This decision is made for all three outputs; you can't choose to have MON.1 with the EVF data and MON. 2 clean, but if you output 4K/UHD on HDMI, it'll remain clean even with the MON outputs showing the EVF display.
If you enable the EVF feed on MON/HDMI outputs, you can use any third-party EVF, albeit without the physical controls that the Canon EVF provides.
Four separate SDI ports are used to output HD, 2K, UHD, or 4K, running singly or in combination: SDI 1 alone is used for HD at 30p or lower, while all four spigots output quad-split or frame-sequential signals for high frame rate 2K, 4K, and UHD. The SDI feeds are either YCC or RGBA, depending on frame size and frame rate; these are all nicely documented in the instruction manual should you have a need for these feeds.
5.9k raw output is not available: if you want to record full-frame raw, you'll need the Codex recorder. SDI can be configured for a 4K raw output, but this is intended only for Canon monitors equipped to deBayer the raw output and apply LUTs for display.
All the outputs can use LUTs: BT.709, BT.2020, DCI, ACESproxy, HDR-PQ (OOTF On or Off), and HDR-HLG are built in, or you can choose from four user-loadable LUTs. All the outputs support embedded audio and timecode.
The EVF feed can be shown full-screen with superimposed data: 
…or shrunken slightly to remain clean, surrounded by data: 
In Super35mm mode, you can display a surrounding area (a.k.a. lookaround), demarcated by a 25%, 50%, or 75% dimming, or by a colored outline, but not both at the same time. Surround view is not available in either full-frame or Super16 mode. 
You can use a dual-level zebra or one of two peaking signals, each adjustable for color, gain, and frequency: 
There's a small WFM available showing line mode (normal), line select (showing a single line chosen from the image), field mode, RGB or YCbCr Parade, or Line+Spot, in which the signal contained on a small onscreen square displays as red atop the normal green of the WFM trace: 
There's an excellent false-color mode for exposure checking; regardless of the gamma selected or the LUT used, it always shows black clip, just above black clip, 18% gray, one stop over 18% gray, just below white clip, and white clip levels:
You can choose from a variety of onscreen markers in your choice of colors: 
(One thing I didn't notice until reviewing these frame grabs is that onscreen display elements are not white, but light gray. The status info is perfectly readable, yet it doesn't dominate; it doesn't grab your attention and distract from the image. It's a small detail, but one that makes operating a C700 FF just a little bit nicer.)
Anamorphic desqueeze is supported at 1.3x and 2.0x squeeze ratios, or "use the lens's squeeze factor as defined in the metadata ([Lens Squeeze Factor])", which you can set manually. Anamorphic desqueeze won't work on HDMI if HDMI is displaying 4K/UHD, nor will it desqueeze the image in Browser Remote.
If you're using the EF-mount camera, the current AF area is shown onscreen, too.
Frame Sizes, Frame Rates, and Recording
The C700 FF allows base frame rates or "system frequencies" of 23.98, 24, 29.97, and 59.94 fps (which I'll refer to as "NTSC" rates), or 25 and 50 fps ("PAL" rates).  
Full-frame: 17:9, 5952×3140, 1 fps to 60 fps ("NTSC") or 50 Hz ("PAL")
Full-frame 2.35:1: 5952×2532, 1 fps to 60 fps ("NTSC") or 50 Hz ("PAL")
Super 35mm crop: 4096×2160 or 3840×2160, up to 72 fps ("NTSC") or 75 fps ("PAL)
Super 16mm crop: 2048×1080 or 1920×1080, up to 168 fps (at 23.98 & 24) or 150 fps (otherwise)
There are various other limitations, especially at 29.97 and 59.94 system frequencies, depending on the recording medium. Refer to pages 69 and 207 of the instruction manual for specifics.
All these sensor modes can be recorded pixel-for-pixel as Canon raw using the Codex recorder. 
You can capture compressed clips from all sensor modes using XF-AVC Intra or ProRes, but FF modes are downsampled to 4K or 2K in-camera. S35 crop mode records as either full-res 4K/UHD or downsampled to 2K/HD, while S16 crop mode records pixel-for-pixel as 2K or HD.
XF-AVC Intra is Canon's own high-quality codec using MXF wrappers. These clips record on CFast cards using 10-bit, YCbCr 4:2:2 intraframe recording at 410 Mbps (4K/UHD, 24fps) or 160 Mbps (2K/HD, 24fps). In FF and S35 modes, you also have the option to record 12-bit RGB 4:4:4 clips at 2K/HD resolution, gobbling up 225 Mbps @ 24fps. If you only need 10 bit RGB, that's possible too: a mere 210 Mbps @ 24fps. All bitrates vary with frame rate, of course. 
If you prefer ProRes, both 4K/UHD and 2K/HD clips can be captured using ProRes 422 HQ. 2K/UHD clips shot in FF or S35 modes may also be recorded as ProRes 4444; S16 clips offer the option of ProRes 422, no HQ. ProRes can be recorded on CFast cards or on the Codex recorder.
When capturing raw, you can simultaneously record (a.k.a. sub record) 4K/UHD or 2K/HD XF-AVC clips on the CFast cards (10-bit YCrCb formats only). ProRes isn't available as a sub recording format for raw main recordings.
You can sub record XF-AVC Proxy clips on the camera's SD card in parallel with main recordings in raw, XF-AVC Intra, or ProRes. These clips use 8-bit 4:2:0 long-GOP recording at 2K/HD resolution, consuming 24 Mbps @ 24fps. Proxy clips can be recorded using any of the built-in LUTs, but not user LUTs. 
Proxy clips can be sent to an FTP server directly from the camera.
Sub recording is very useful, but it has some quirks:
1) The manual states:
When simultaneous sub recording is activated but no CFast card is inserted in the camera: 
–  If the main recording format is set to [XF-AVC (CFast)], only the sub recording (XF-AVC Proxy) clips are recorded on the SD card. 
–  If the main recording format is set to [ProRes (CFast)], sub recording clips will not be recorded either. 
The upshot of this is that if you're shooting XF-AVC Intra and sub recording a proxy, the camera will happily roll with no CFast card installed; you can keep on shooting without realizing you're not recording your full-fat clip.
2) If you sub record 4K/UHD clips while shooting raw, bump the capture mode down to S16 for some high-speed work, then return the camera to FF or S35 mode, the sub recorded clips also bump down to 2K/HD, but do not return to 4K/HD by themselves. Unfortunately, the sub rec resolution isn't visible on the HOME screen or in the INFO pages, so if you don't menu-dive to double-check, you can keep on shooting without realizing that your supposed 4K XF-AVC clips are all now half-resolution (ask me how I found that out).
3) Sub recording doesn't work during Slow & Fast recording.
The C700 FF has a few other tricks available when recording XF-AVC: 
Double slot recording lets you record the same clip on two CFast cards simultaneously. As soon as the shoot ends, hand one card to the editor, keep one as a backup.
Relay recording fills one CFast card, then switches to the other. As long as you can keep stuffing CFast cards into the camera, it'll keep recording.
IP Streaming: the camera can send low-bitrate, long-GOP video over wired Ethernet or Wi-Fi (with the optional radio) using UDP, RTP, RTP with forward error correction,

 

or RTSP/RTP.
These features are only available when recording XF-AVC. Strangely enough, bars and tone are also only available when recording XF-AVC: they can neither be recorded nor output if you're capturing raw or ProRes.
Speeds 'n' Feeds
Media consumption depends on frame size, frame rate and codec , but a 4K 24p clip will burn through 64 GB of CFast card every 20 minutes in XF-AVC or 10 minutes in ProRes 422 HQ. 
A 16 GB SD card will hold a full hour of 24p proxy material. 
A 2 TB Codex capture Drive holds about 46 minutes of full-frame 24p raw, or 169 minutes of 4K 24p ProRes 422 HQ.
Canon's full table of recording times is on pages 247 and 248 of the manual.
Audio
The camera records four channels of 48kHz, 24-bit audio. Dual XLRs can accept two channels of analog or four channels of AES/EBU digital audio; a 3.5mm stereo minijack provides two more, and a built-in monaural mic offers yet another source. 
The monaural mic uses automatic gain control (it's intended as a comment or slate mic), but the other analog sources are all highly configurable in terms of manual or automatic level, trim, attenuation, frequency filtering, limiters, and ALC channel linking.  
Body-mounted switches configure the XLRs for analog or digital, mic or line, and +48V phantom power, but all other controls live in the side-panel ALT menu's AUDIO submenu, or the EVF menu's audio section. The system is exquisitely configurable, but it's not set up for real-time control in the middle of a shot. 
(If you're playing at this level, you're more than likely to have a dedicated soundie riding the pots on an offboard mixer; this isn't so much a critique as it is a note that if you're looking for audio knobs on the outside of the box, you aren't going to find them. You can assign user buttons for headphone volume up and down, but that's pretty much it. Sadly, you can't assign audio gain control to the iris/ISO control dial.)
When shooting XF-AVC or ProRes, all four channels are output embedded in the SDI signals, but when shooting raw, only two 16-bit signals are output. HDMI always carries two 16-bit channels, and the headphone jack monitors two channels, too. You can choose which two channels to output in these cases.
Both XF-AVC and ProRes clips embed all four channels of audio. For raw recording, four monaural .wav files are deposited in the same folder as the .rmf frame files, where Canon RAW Development or Resolve can get ahold of them in post.
I didn't have time to thoroughly test audio performance, but I can confirm that the built-in slate mic works, and I used it to verify audio sync in the raw development process.
---
Continued in Part 2: Operations and Performance
---
Disclosure: Canon supplied a C700 FF, Codex recorder, and Tokina prime lens for this review. Canon also covered the cost of my travel and lodging to visit their Burbank facility, both to test the C700 FF EF and to give a presentation to Canon folks about camera testing. Those aside, there is no material relationship between me and Canon. Canon did not compensate me for reviewing the camera, and the travel cost reimbursement was not conditional on a favorable review.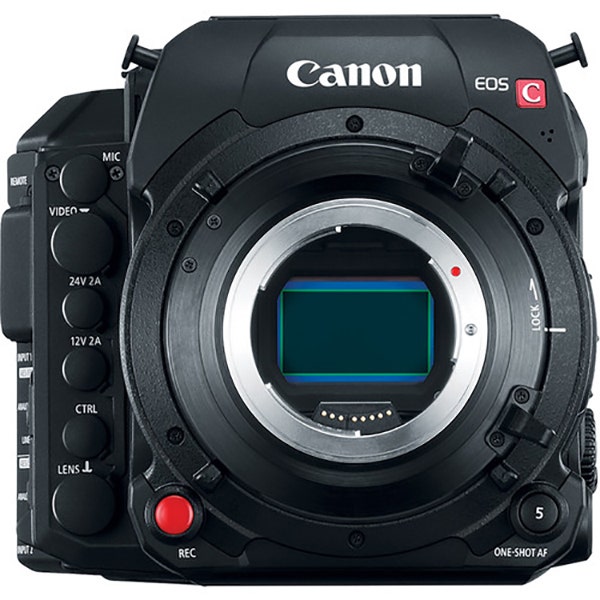 Canon EOS C700 Full Frame EF Cinema Camera
Order Today